June 24th, 2020
We are pleased to present this interview with the owners of Spyhop II conducted by listing broker, Christopher Bruce. JMYS is providing this information so that interested buyers can better understand this vessel and more importantly some of the experiences of the sellers.
For additional information (pricing, specifications, layout, photos, video, etc.) please visit www.JMYS.com.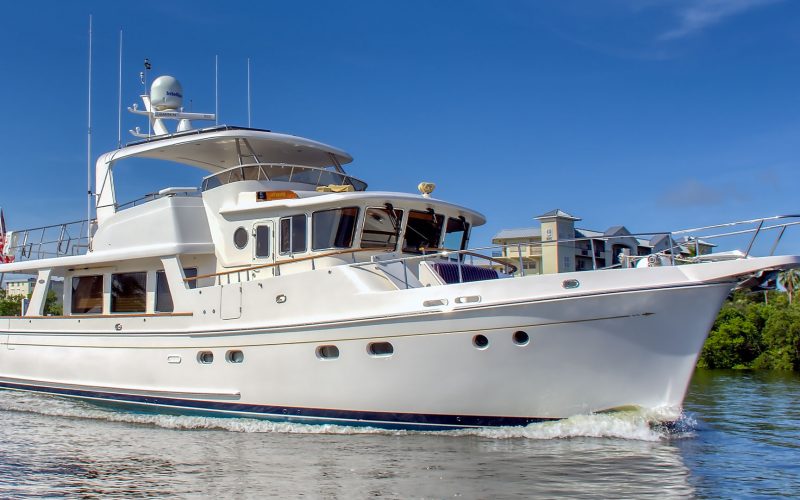 Questions and answers:
Q. Spyhop II is a very interesting name, how did you settle on that name for her?
A. Our previous boat was a Catalina 355 sailboat that we purchased from an Australian ocean cinematographer. He named her Spyhop after the behavior that whales exhibit – breaching the water's surface and pivoting to look around. The thinking was that the boat would journey, stop to have a look around and then move on to the next destination! We thought the name was unique and quite apropos, so we retained the name and have enjoyed the many conversations that it has started.
Q. Could you tell us why you purchased Spyhop II?
A. Following the sale of our business and an early retirement, we knew that we needed a new challenge and adventure. Coming from technical fields, the idea of no longer engaging in continuous learning and problem solving concerned us. We thought that learning new trawler mechanical and electrical systems would keep our heads immersed in a new and interesting challenge. Just as important, as empty nesters, we wanted to explore new destinations while living aboard a boat with all the creature comforts of home.
Q. What are your favorite aspects of the boat?
A. The size of the saloon – a wide body cabin – has made for comfortable lounging and plenty of room to entertain guests.  Loads of storage in the galley, staterooms, commissary and lazarette made the move from land to the boat far easier than expected.  Two stairwells to the lower staterooms allow for full privacy for both the owners and guests. We are the second owners, but the first owners had previously built and owned a Selene 53.  All that they learned from the experience with their Selene 53 was addressed when they built our Selene 56; so, for us, everything was dialed in just right.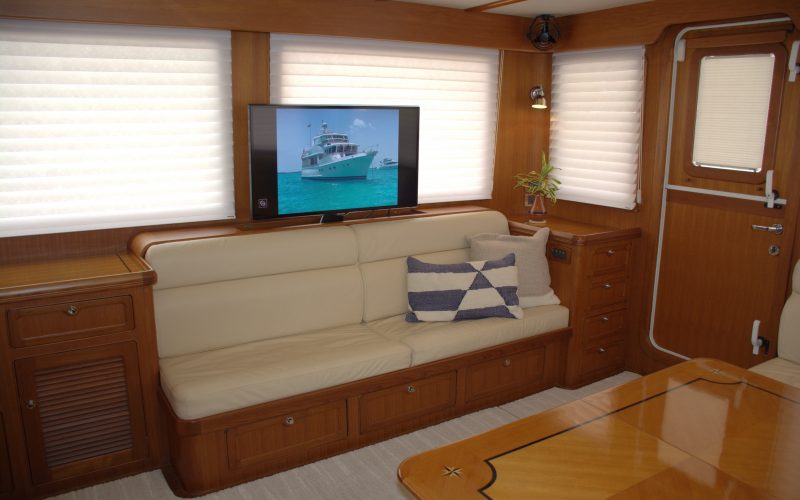 Q. What are some of your favorite memories aboard?
A. The spaciousness of the entertaining spaces created plenty of room for families and friends. We greatly enjoyed meeting new boaters and locals at each stop along our journey. Though nail biting at first, we've grown to love the excitement of multi-day, offshore cruising – especially, the beauty of navigating at night.
Q. What are some of your favorite cruising destination you have been with Spyhop II?
A. After moving aboard and settling in, we embarked on a four-month trip up and down the US east coast from Delray Beach, FL, ultimately reaching Newport, RI. Favorite stops included Hilton Head, Bald Head Island, St. Michaels on the Chesapeake Bay, Liberty Landing and many days enjoying family and sights in NYC, the beauty of Long Island's north shore from Port Washington in the west to Port Jefferson in the east and Greenport on the Peconic and Long's Islands north fork.
We also enjoyed a multi-month journey to the Bahamas that created some of our fondest memories.  We spent time with friends that live on Green Turtle Cay in the Abacos and enjoyed friends flying in to visit and cruise with us.  We were truly amazed by the calm and seclusion of the Exuma Land and Sea Park and the most magically, beautiful waters we've ever seen.
Q. What are you doing now that you are selling Spyhop II?
A. As liveaboards, we have packed in so much into a few short years but, feel we have accomplished much of what we set out to do. We have always loved the wonderful seasons and activities in the US West and have purchased a second home in Park City to have more time to enjoy all that it has to offer. We'll maintain our primary residence in Florida, but plan to shift back and forth to relish the best of each region.  Spyhop II is the third boat that we've owned, and likely not the last.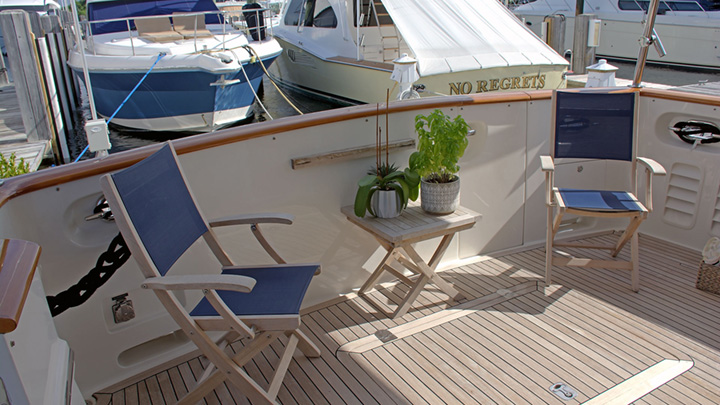 Q. What advice do you have for the next owners of Spyhop II?
A. If you are uncomfortable maintaining boat systems, take the time to attend courses and to shadow service engineers, and ask questions, when they are aboard. Maintain a service schedule and log to keep systems in peak operating condition. Use communicators / headsets between the captain and crew to eliminate yelling and ease communication when docking – this will keep peace in your relationship!  We were lucky to purchase from a seller that was generous with his time during the handoff of the vessel and to answer questions for many months after – seek assurances from the seller of their commitment to help in this regard.  Finally, don't allow the vessel to become a "dock queen" – get her out, gain the confidence and enjoy magical nights at anchor under countless stars.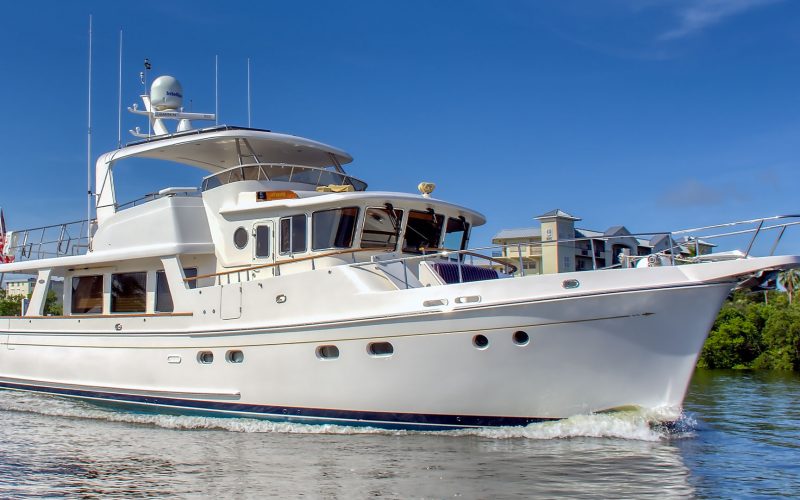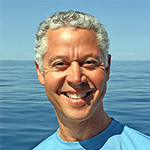 Christopher Bruce, (Licensed Florida Yacht Broker) has extensive product knowledge of the trawler market plus intimate knowledge of the Kadey-Krogens. He left the Biotechnology and Life Science research industries after 30 years of Sales and Marketing, happy now to only need to put on a tie for formal events.  Christopher purchased his Kadey-Krogen 44AE, Sweet Ride in June 2015 and has embraced the trawler lifestyle and loves talking about how to shift gears from life in the fast lane to life at sea. All inspections are by appointment only. Please contact Christopher by phone, text or email for additional information or to schedule your personal showing. Christopher is always available via Mobile +1 603.397.8397 (call or text). You can send a detailed Email to: Christopher@JMYS.com.
Brokers comments:  Thank you for taking this time to learn more about the Selene 56 Spyhop II.  We have had a lot of showings and everyone who views her is impressed.  Spyhop II was a great draw and very popular at the Stuart, FL TrawlerFest this past March. We had her scheduled to participate in the Palm Beach International Boat Show as well, but unfortunately that was cancelled. She is located behind a private residence and viewings are available by appointment.  I'm very familiar with this lovely Selene and welcome your call, text or email so that we may discuss her further and hopefully get you aboard to see for yourself.